We have added a new tagging feature inside of MLB. This will give Administrators the ability to create tags and then apply them to Binders and Sections. Once that is done when viewing the listing, you will be able to search via tags.
Creating Tags
1. Select Settings Tags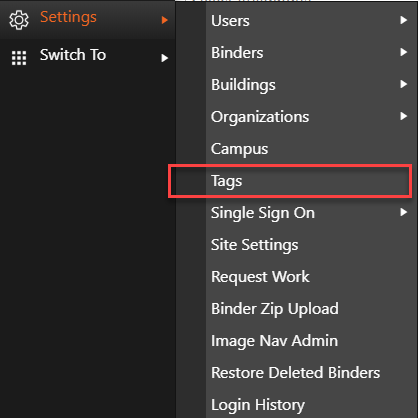 2. Select Add New Tag

3. Add the tag name and click the checkmark
Adding tags to Binders/Sections
1. Select the Pencil icon (

) next to a Binder or a Section

2. Scroll to the Tags section and click into the blank field.

3. After the Tags are selected click Save
Searching using Tags
1. Select Binders on the Left-side navigation menu
2. Type your tag in the search bar and click the Magnifying Glass

3. The Search will then display your results

Note: You can narrow down your search by unchecking Binder, Sections, Files. In addition to this, you can add filtering options such as System and Buildings.